Are we running out of manpower? Aging (western) societies, weak birth rates, geopolitical complications, shifts in consumer demand – these are just some of the challenges currently facing the global labor market. Manufacturing in particular, but also logistics and warehousing is massively affected by this development. Just to put the dimensions of the labor shortage into perspective: A report by Deloitte and The Manufacturing Institute estimates that by 2028, there could be a shortage of 2.4 million skilled manufacturing workers in the United States alone. And Europe is heading in the same direction.
That all sounds dramatic, doesn't it? In fact, the labor shortage is one of the most significant challenges of the 2020s. But does that mean you have to simply accept it? While there is a shortage on one side, solutions are literally flourishing out of the ground in another area. Meet the magic words of the day: process automation.
It's obvious: If the labor shortage gets worse, the limited manpower available will become more and more expensive. Companies must therefore think outside the box to increase efficiency and thus maintain competitiveness. Automation, enabled by technology, is the most promising way to mitigate the impact of labor shortage in the long term. And, as a side effect, it empowers employees and increases overall satisfaction.
Is it really that bad? Here's what's happening with labor shortage in manufacturing and logistics
Almost all industries are currently facing a significant labor shortage, with many companies struggling to find skilled workers. In Germany, 50 % of companies are already experiencing a shortage of staff, while 31% of logistics specialists are having to complete more tasks in the same amount of time, according to the Ifo Institute¹.
A study by the German Association for Supply Chain Management, Procurement, and Logistics (BME) showed that over 80% of logistics companies reported difficulties in finding qualified staff².
And The German Manufacturing Purchasing Managers' Index (PMI) fell to 46.3 points in February 2023, coming from over 57 points 12 months ago, reflecting a slowdown in production growth due to labor shortages and supply chain disruptions³.
Companies therefore feel under increasing pressure to relieve their employees while at the same time being able to continue to guarantee availability and delivery capabilities. Another aspect is that labor costs make up the largest part of warehouses' budgets (50-70% according to Kane is Able⁴), and it becomes evident that companies need to take a close look at how to allocate manpower efficiently, because not only is it rare, but it's also getting more and more expensive.
Automation leads to better workforce allocation and more efficient human-machine interaction
As a result of the shortage of skilled workers, companies are increasingly automating their processes. This is economically advantageous, since processes in intralogistics can run more error-free and save time and money.
The analyses and predictions speak for themselves: The use of automation in manufacturing can help reduce the need for manual labor, with the potential to replace up to 20% of the workforce, according to a study by the International Federation of Robotics⁵.
Automation therefore makes sense for standardized and recurring processes, but it does not replace a skilled worker: the key is to maintain or even increase production capacity despite a shortage of labor. Every resource made available by automation can therefore be used immediately elsewhere.
Since man and machine will work together in the value chain even more in the future, it is crucial that automated processes are perfectly integrated into the company's overall concept. Predictions by the McKinsey Global Institute back that by stating automation technologies could help to fill the labor gap and even increase global productivity by up to 1.4% annually⁶. So does that mean you can have your cake and eat it too? We'll leave this assessment up to you.
RTLS is one of the critical enablers for less repetitive human work and optimized, automated processes
Real-time locating systems (RTLS) technology provides live visibility into the location and movement of assets, whether they are workpieces, tools, automated guided vehicles (AGVs), robots, or even employees. This enables companies to optimize their operations and make more informed decisions. By automating manual processes, RTLS can reduce the reliance on manual labor and help to relieve the pressure on employees.
For example, RTLS can be used to track the movement of goods and materials within a warehouse, allowing companies to optimize their processes and reduce the need for manual labor. RTLS can also be used to monitor the performance of automated systems, helping to ensure that they are operating at peak efficiency.
By providing real-time data, RTLS allows companies to make informed decisions about the movement of goods and materials, reducing the likelihood of errors and delays. This can result in faster processing times and improved delivery times, which can increase customer satisfaction and reduce the pressure on employees.
In addition to its benefits for companies, RTLS can also help to relieve the global labor shortage by providing a more attractive work environment for employees. By automating manual processes, RTLS can reduce the physical demands on employees and provide a safer work environment. This can help to improve employee morale and reduce the risk of workplace accidents, leading to improved employee retention.
Another advantage of RTLS is that it can help to address the issue of the skills gap. As the workforce ages and the demand for skilled workers increases, many companies are struggling to find employees with the right skills or train existing workers properly. RTLS can make a real difference here as real-time location data can be used to identify areas for improvement in the day-to-day work of personnel and offer various training and development opportunities. For example, research⁷ based on evaluations of real-time location data show that there are significant differences in driving behavior in many companies with vehicle fleets such as forklifts. Fast starts, sudden braking, corner cutting and unnecessary driving routes not only lead to safety being compromised, but also to work being carried out inefficiently, wear and tear and energy consumption being higher. The analytics gained through location data provides transparency in the driving behavior, enabling improvements to be introduced that ultimately lead to more streamlined personnel deployment, thus counteracting the shortage of skilled workers.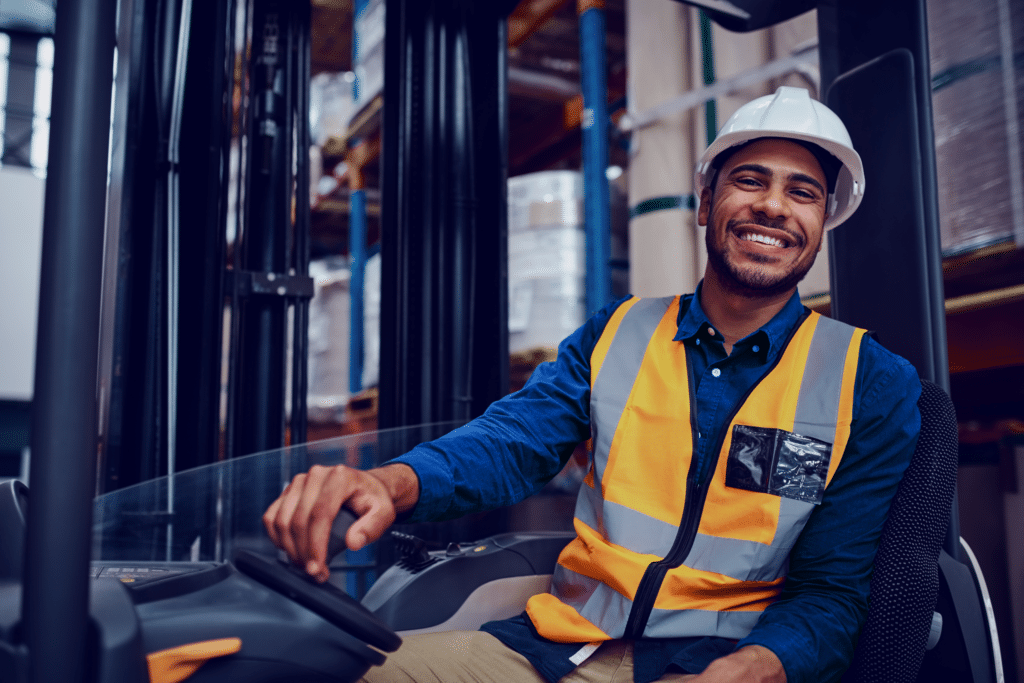 Play a game you can win: The labor shortage cannot be stopped, but it can be tackled successfully with automation and technology
The global labor shortage in supply chain and logistics industries has become a major challenge that companies need to overcome in order to maintain efficiency and control costs. Automation and technology can effectively relieve this pressure and provide a solution to the current situation. Real-time locating systems (RTLS) play a critical role in this solution by streamlining processes, improving productivity, and reducing the reliance on manual labor.
Let's wrap this up with a good piece of advice: There is particularly great potential in the harmonization of RTLS technologies. This is because companies are usually already working on automating processes, therefore considering or using some form of RTLS technologies. However, these technologies are often used in isolation and in a non-interoperable manner. As a result, inefficiencies arise throughout the entire supply chain, affecting day to day work of the employees.
The DeepHub is a one-of-its-kind middleware that connects all RTLS technologies through a single API. It streamlines the integration of location data on a massive scale, enabling you to gain unique insights into your operations and automate processes that can help combat the labor shortage. Learn more about the capabilities of the DeepHub now.
References
1. https://www.ifo.de/pressemitteilung/2022-08-02/fachkraeftemangel-steigt-auf-allzeithoch
2. https://www.beeline.com/de/ressourcen/2022-bme-umfrage-externe-personal-und-dienstleistungen
3. https://tradingeconomics.com/germany/manufacturing-pmi#:~:text=Manufacturing%20PMI%20in%20Germany%20averaged,points%20in%20January%20of%202009
4. https://www.kanelogistics.com/blog/reduce-costs-warehouse-labor-management
5. https://ifr.org/img/office/IFR_The_Impact_of_Robots_on_Employment.pdf
6. https://www.mckinsey.com/~/media/mckinsey/featured%20insights/Digital%20Disruption/Harnessing%20automation%20for%20a%20future%20that%20works/MGI-A-future-that-works-Executive-summary.ashx
7. https://www.researchgate.net/publication/319888869_The_Effect_of_Forklift_Driver_Behavior_on_Energy_Consumption_and_Productivity