In today's global economy, companies are constantly under pressure to maximize profits and stay competitive. Manufacturers of all sizes can improve their competitive advantage by incorporating sustainable development principles and practices, such as lean manufacturing, as well as strategies that facilitate a convergence of profitability and sustainability.
The efficient use of equipment and resources plays an enormous role in an organization's carbon footprint. Eco-efficient production practices and the use of new technologies are all key components of sustainable manufacturing.
Tracking technologies used for the localization of production parts, tools, workers and mobile vehicles can significantly enhance utilization and effectiveness, allowing for greater use of resources and equipment. The process of monitoring energy consumption requires a flexible system that receives telemetry and location data, unifies it, and aggregates it into a platform to perform further analysis and provide insights.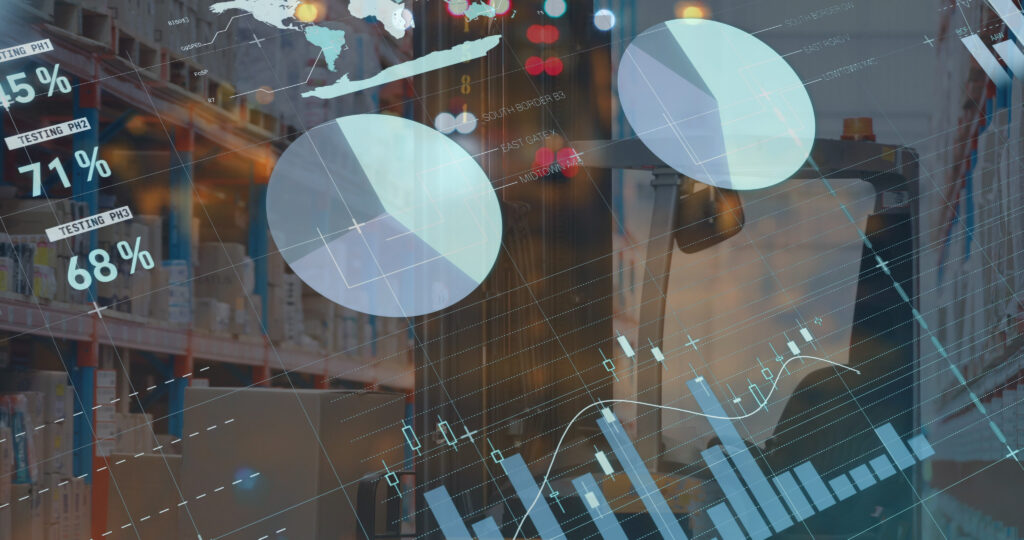 The omlox Approach
In order to make energy consumption more transparent and optimize processes in an industrial context, several industry players have joined forces to build a holistic energy monitoring solution through omlox – the open locating standard.
omlox facilitates seamless tracking of assets across entire supply chains – throughout logistics, intralogistics, and production. It provides unified access to location data through a standardized API, thereby enabling full interoperability of locating technologies from any vendor. This facilitates the adoption of more streamlined processes and the optimization of asset utilization and material flow on a massive scale.
This modular approach allows for greater flexibility through a combination of technologies from different vendors. It can be adapted to any location-specific setup and monitor energy consumption during transit. By ensuring technology and manufacturer independence through open interfaces, omlox streamlines the use and integration of locating data and allows existing tracking systems to be embedded into any type of infrastructure.
The Solution
Let's take a closer look at this specific omlox solution and the partners that were involved in bringing it to life: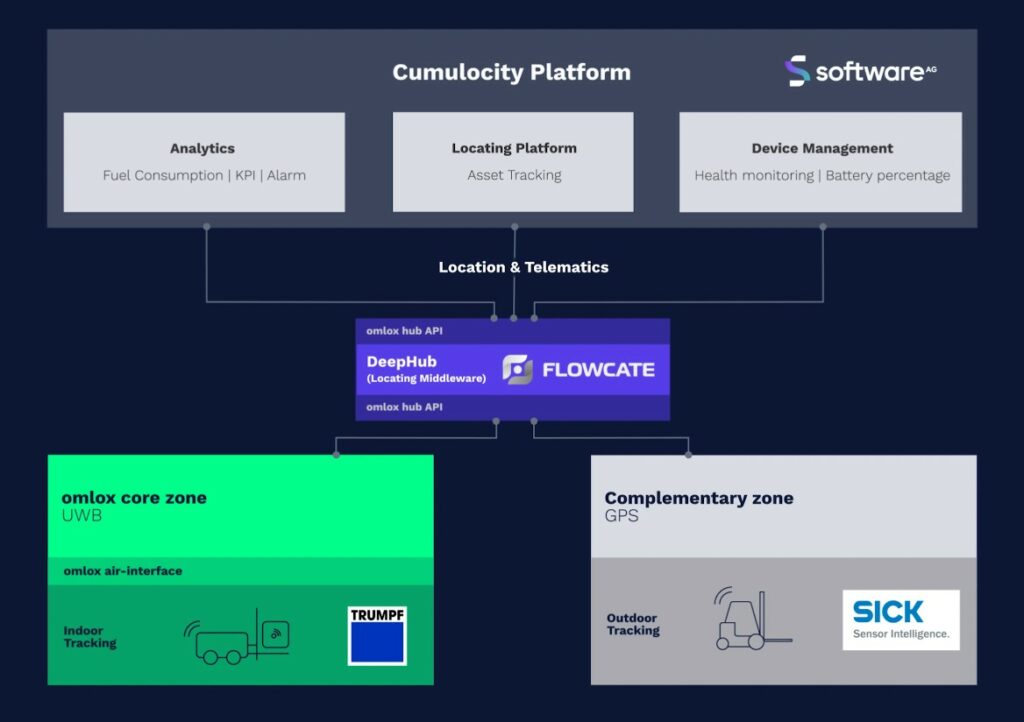 TRUMPF Tracking Technologies provides the omlox core zone – an UWB based locating zone which provides interoperability between software and hardware components – as well as UWB satellites and tags, to precisely track forklifts indoors.
SICK AG provides an edge computing IIoT gateway designed to collect telemetry data from the forklifts, such as their fuel consumption. This gateway also includes a GPS sensor that is used to track the forklifts in outdoor environments. Their precise location and associated telemetry data is sent to Flowcate's omlox hub – the DeepHub® – through the omlox hub API, where it is aggregated and standardized.
The data is then forwarded to Software AG's Cumulocity IoT platform for further analytics. Through this platform, the positioning and telemetry data from the forklifts and UWB tags are analyzed in order to reduce energy and fuel consumption. The ability to reliably monitor the battery levels of UWB tags and the fuel consumption of forklifts allows for optimized routes, reduced energy consumption, decreased costs, and improved sustainability.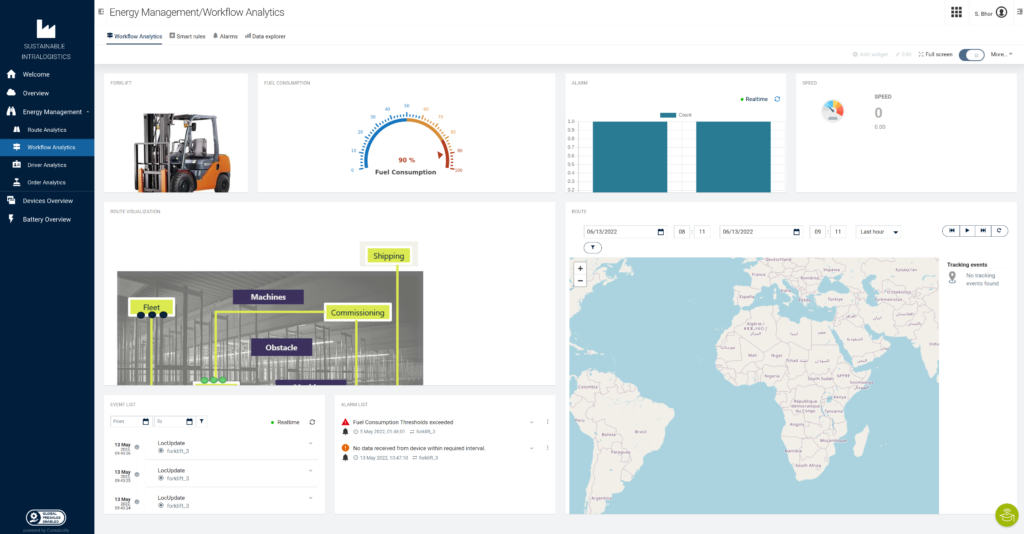 As a key founding member of omlox, Flowcate provides the premier omlox-compliant middleware – the DeepHub. The DeepHub enables organizations to integrate location data from all positioning technologies and providers in an interoperable manner, and to enhance their products and solutions for process automation and location-aware use cases.
Make sure to check out our shared YouTube video explaining this omlox solution in more detail:
Conclusion
There are many ways we can make the world a better place. Everyone has a role to play. This holistic energy monitoring solution through omlox is only one piece of the puzzle, but it's a step in the right direction for optimized and sustainable material flow in the long run.
omlox and the DeepHub open up many possibilities for any existing or future location-aware solutions and use cases. By providing ubiquitous access to location data on any asset in an industrial setting, companies are able to improve operational efficiency, enhance productivity, and workflow performance.
Make sure to take a look at other articles on our blog and don't hesitate to reach out to us if you have questions, ideas or feedback – we'd love to hear from you!