Introduction
Regardless of the industry, any company that wants to be competitive on an international scale must maximize its production automation level. In order to increase productivity, reduce batch sizes, and raise production levels, flexible and automated production processes are essential.
In manufacturing automation, automated guided vehicles (AGVs) and autonomous mobile robots (AMRs) hold the future for intralogistics processes. Logistics and supply chain industries increasingly rely on AGVs/AMRs as they have a huge impact on efficiency, productivity, and safety. To perform at their best, AGVs/AMRs must make effective use of sensors to intelligently navigate.
The manufacturing automation industry has embraced AGVs/AMRs in the past few years, but they still face a critical issue: incompatibility between different types of AGVs/AMRs, location data, and communication interfaces. Historically, different interfaces have posed challenges for seamlessly controlling and managing third-party AGVs/AMRs, resulting in complex integrations.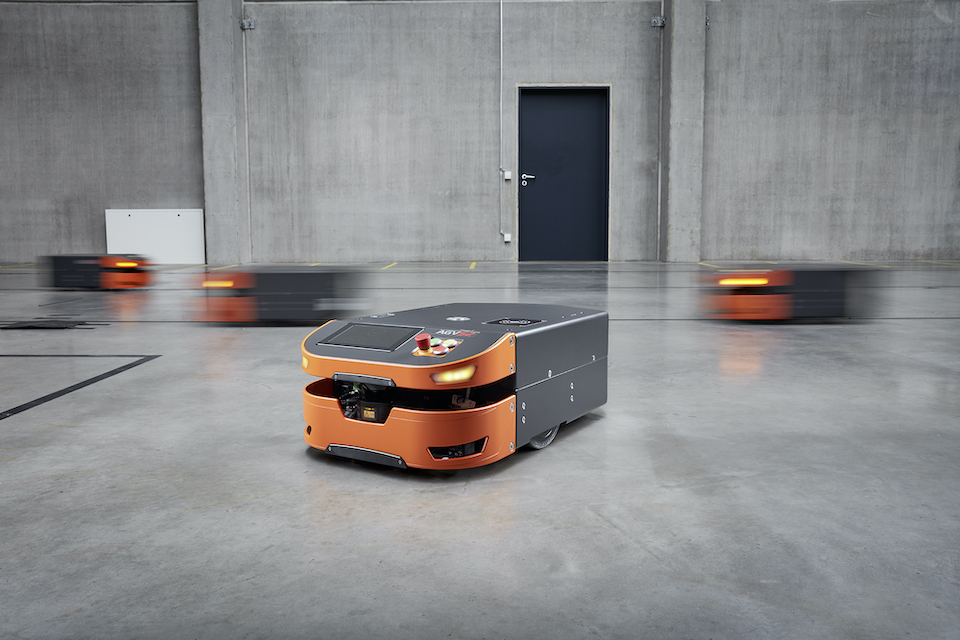 omlox has the Solution
omlox, the world's first open locating standard, unifies location data from multiple positioning technologies and enables vendor-independent tracking of all moving objects. In the context of AGVs/AMRs, it complements VDA 5050 – a standardized interface for the communication between AGVs/AMRs and a master control (fleet management software). Together, omlox and VDA 5050 ensure interoperability between different types of AGVs/AMRs and fleet controllers.
This interoperability results in a plethora of benefits, which enhance processes through optimization. As an example, organizations can incorporate additional AGVs/AMRs when workloads are high and reduce the amount when workloads are low to respond quickly and flexibly to order fluctuations. With omlox, manufacturers and service providers can provide the maximum benefit to end users in an affordable manner with manageable development costs.
The foundation of omlox lies in an ecosystem that is growing at a rapid pace. The members span a variety of backgrounds – ranging from software and hardware companies, system integrators, and solution providers. We all share one common goal: to utilize, promote, and develop the omlox standard in order to streamline the management of location data and enable new use cases in Industry 4.0. As a result, the manufacturing and supply chain industry will be able to take efficiency to entirely new levels.
VDA 5050 and omlox focus on different areas of standardization. omlox was developed to ensure interoperability between different locating technologies, whereas VDA 5050 was designed to enable interoperability between AGVs/AMRs and fleet control systems. Through collaboration with both standards in the omlox community, it became evident that combining the two would extend the horizon of interoperability.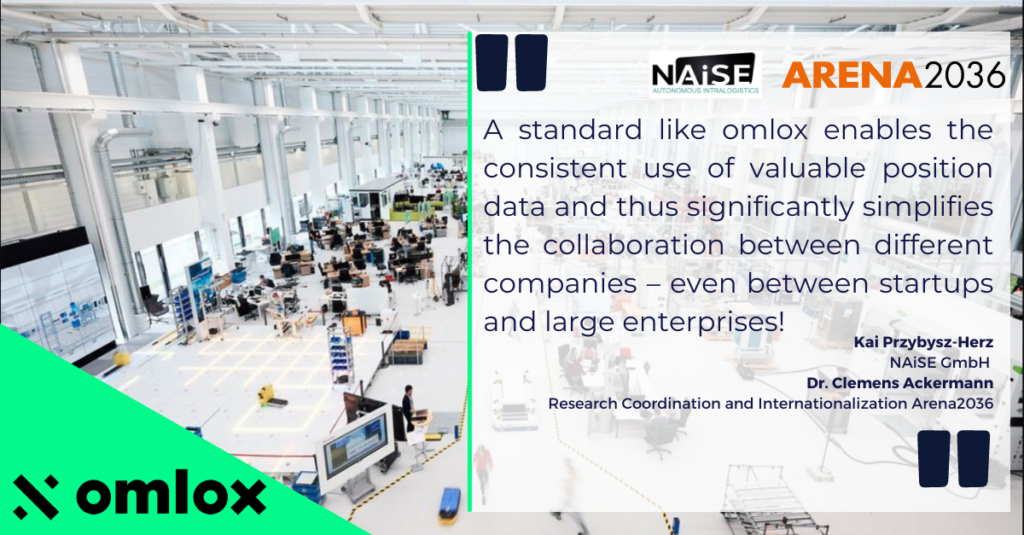 The Arena
In order to devise a seamless, flexible, and holistic traffic management solution that incorporated both standards, several key omlox partners teamed up for a joint collaborative project:
Flowcate – we are a global technology company focused on reshaping how location data is used in the IoT.
TRUMPF Tracking Technologies – enables you to create flexible, real-time tracking solutions for tomorrow's locating requirements.
SAFELOG – offers the development and intelligent linking of innovative logistics systems such as AGVs/AMRs.
NAiSE – offers the world's only traffic manager for all participants of intralogistics.
WAKU Robotics – offers the largest mobile robot comparison website, called Lots of Bots.
The joint solution was conceptualized and implemented at ARENA2036 (Active Research Environment for the Next Generation of Automobiles) – a German research campus backed by the Federal Ministry of Education and Research (BMBF). With a focus on future mobility, it is organized as a registered association serving as a platform for the exchange of innovative ideas between science and industry.
The ARENA campus is laid out as a versatile factory which serves as an open co-working space. By facilitating cooperation between heterogeneous project groups, competencies are transferred beyond the boundaries of a single organization, which has a lasting effect on the creation of creative and innovative work. It is such a setup that enables research results outside of established solution spaces to become feasible.
The Use Case
WAKU Robotics helps with the selection of AGVs/AMRs and brings these robot systems to the factory floor through flexible financing and procurement models. Their Lots Of Bots portal is the largest free and independent comparison platform for mobile robots in the area of logistics and production.
SAFELOG provided an array of VDA 5050-compliant AGVs/AMRs. Intelligent AGVs from SAFELOG provide forklift-free and automated JIS and JIT supply for assembly lines and packing stations.
TRUMPF Tracking Technologies supplied the UWB-based omlox core-zone infrastructure, which sets the foundation for an open, real-time locating system. The infrastructure includes a set of anchors, the required tags that are being tracked, as well as the locating software running on an IPC or server to determine the exact position data. The "air interface" of the omlox core zone defines the communication between an anchor and a tag. It is also standardized, meaning that any omlox-compatible UWB tag attached to an AGV/AMR can communicate with the omlox anchors in the core zone – irrespective of the vendor by which it is supplied. This way, an AGV/AMR can be up and running in no time to receive positioning data.
The local positioning data from the TRUMPF core zone (the location of the AGVs/AMRs) is then sent to the omlox hub. This is where we fit into the equation, as we developed the premier omlox hub implementation – the DeepHub®. The DeepHub is a lightweight, high-performance middleware that acts as the centerpiece of omlox, aggregating and processing location data from any technology and/or vendor. It transforms local positioning data into standardized, global coordinates, and provides it to any system or application via the standardized omlox API. Actionable insights can be derived from the creation and management of zones, geofences, trackables, and events (including entries and exits, collisions, and location updates). The flexible and robust nature of the DeepHub allows it to excel on the edge, in a cloud, or in a hybrid environment.
The UWB tags from TRUMPF are set up as movable objects in the DeepHub. The location data is aggregated in real-time and the DeepHub computes distances to prevent collisions between AGVs/AMRs and other objects.
The harmonized data from the DeepHub is subsequently sent to the NAiSE fleet management software through the omlox hub API. Their platform is operated via an intuitive web application that allows for the management and control of the guidance system for the AGV/AMR fleet. Through the omlox standard, the NAiSE fleet management system can incorporate not only AGVs/AMRs, but location data from any other moveable object (people, forklifts, tugger trains, etc.) in traffic control and can therefore ensure seamless material flow in mixed operations.
In addition to the NAiSE fleet management system, the performance of the AGVs can be monitored through WAKU Sense – a platform for alerting and incident management.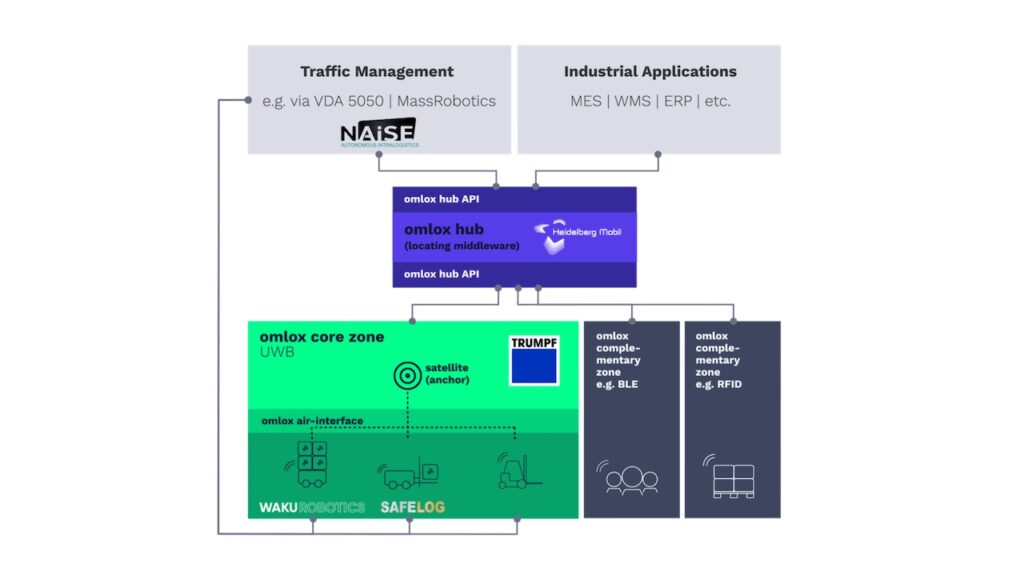 Outlook
Implementing a flexible AGV/AMR fleet management system is not an easy endeavor. This is particularly true when it is required to monitor different devices from different manufacturers, and when changes in the fleet size must quickly adapt to workload changes. In this project, we demonstrated how easy it can be to integrate and manage multiple devices into one holistic system using global standards that guarantee interoperability.
With the omlox and VDA 5050 standards, it is possible to quickly and effectively deploy AGVs/AMRs into new environments. These industry standards are the solution to overcoming the limitations of proprietary systems, allowing for feasible and affordable location solutions for smart factories and Industry 4.0.
omlox provides streamlined access to location data not just for AGVs/AMRs, but for any trackables across a facility, such as human-operated machinery and workers. This granular overview of the entire facility allows for true optimization of production processes.
Innovative solutions are seldom achieved through a singular effort and require a team of like-minded people who are focused on the same goal. What makes omlox unique is its ecosystem of specialized and forward-thinking partners that foster collaboration at the highest level. As a key founding member of the omlox standard, we are at the forefront of its future development and our DeepHub represents and essential component of any omlox-based solution.
Interested in joining the omlox ecosystem or booking a demo? Get in touch with us today!